Kim Kardashian is clearly an experimental woman – just about anything goes. On Sunday's episode of Keeping Up with the Kardashians, Kim admitted to her younger sister Kendall Jenner and Scott Disick that she had used the drug ecstasy in the past.
The conversation was prompted by Scott mentioning a memory of Kim going to an amusement park high on drugs, "to Disney and you were all high or something — or Six Flags."
Kim admitted to being high on ecstasy, or MDMA, the first time she got married, saying "I got married on ecstasy the first time. I did ecstasy once and I got married."
Then added,
"I did it again. I made a sex tape. Like, everything bad would happen."
Wow! Kim Kardashian just admitted to being high on ecstasy while making her infamous sex tape with then-boyfriend Ray J in 2003! The tape was leaked in 2007, and not long after Kim Kardashian was a household name.
You can watch that XXX video here (NSFW!)
Her first marriage to music producer Damon Thomas was in 2000 – the couple divorced in 2004. She's now married to Kanye West and has three children. We're all left wondering if Kim still loves to roll while having sex… it can make you do some pretty crazy things!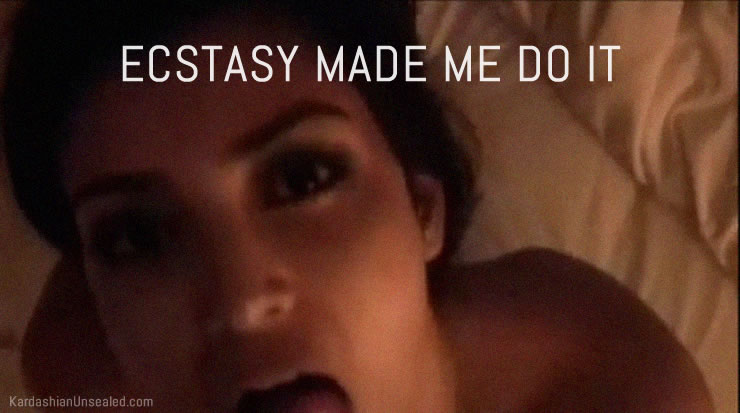 References