It's been claimed that a naughty sex tape was just leaked online between Kylie Jenner and Tyga (also known as the couple "Kyga"). The intimate footage was shown on Tyga's website for about 30 minutes and then someone took it down. Does Tyga have anything to do with this?! The couple just recently called it quits and he was reportedly very upset about it – maybe this was revenge against Kydizzle for breaking his heart.
There is a close source of Tyga that recently went to the tabloids and confirmed that the former couple definitely has a private tape. They also said that T has been in contact with adult companies to see what kind of deals they will offer him. Meanwhile, the source also stated that Kylie and the whole Kardashian family is against him releasing the video. Kris Jenner (Ky's mom) never trusted the Rack City rapper and warned her daughter that this would happen.
When the sexy brunette turned 18 years old, the couple was offered millions of dollars from Vivid Entertainment to get freaky in front of the camera, but nothing came of it. Everyone thought that Jenner would follow in her half-sister's footsteps (Kim Kardashian) and create an erotic film that would blow up the internet, especially since she seems to have a freaky side to her. If you take one look at Ky's Instagram you will notice that this bodacious girl isn't afraid to show some skin.
Some of Ky's fanz tweeted that they believe she made the vid with T to gain his love, but then backed out on selling it at the last minute when she realized there is no reason for her to do that. She already has millions of dollars and the spotlight – unlike Kim who was trying to get her career started back in 2008.
Well, Kylie might be pissed at her ex for awhile if he does sell it, but all of her admirers will be happy! She's got the finest body around, some even argue that she's hotter than Kimmy.
Some footage possibly?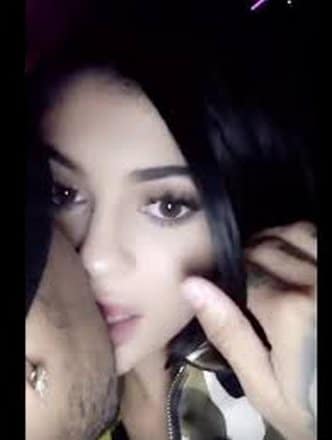 Mmmm, just look at these delicious photos of her bod.