Kim Kardashian's little half-sister Kylie Jenner broke up with her long term boyfriend Tyga a few weeks ago and according to some close sources to the rapper, he is not thrilled with her decision. The ever-changing fashionista Kydizzle had enough of all of the drama and trust issues she consistently had with Tyga. The couple never stopped dealing with scandals since the moment they hooked up (which was before Jenner turned 18).
Tyga's ex Blac Chyna started some major gossip about her baby's daddy's new famous girlfriend. Blac and her best friend Amber Rose even went as far as having tweet wards with the pair. They said that Kylie was too young to be with Tyga and that she needs to stop dating an older man. The curvy ladies also dissed her by saying it was "past her bedtime". This was just the beginning of the social media bullying that Kylie had to deal with…
On top of having Blac on her ass all the time, Kylie also had to deal with Tyga infidelity which he got caught in multiple times. Even right before they were over, Tyga was caught red-handed at a concert with not one model, but two! It's strange that he would ever cheat on a girl as fine as Ky. The boy just doesn't know how to appreciate something before it's gone!
Recently, Tyga was stopped by a photographer who asked him a few questions about his split. The camera man posed the question about their age difference and if that was a factor in the unraveling of their love. He answered with "Um. Uh, I think, you know, we're both just focusing on our lives, our individual lives right now, you know? Sometimes things don't work out."
Then he went on to say that he still "loves" Kylie and always will. Then the nosy camerman asked Tyga if he thinks Rob Kardashian is a good father figure to his son, which then he bluntly replied: "Oh, don't even get me started on that!"…
Some people think that Rob and Blac are to blame for their demise because of the tension in created for the Kardashian/Jenner family. It was just too much for everyone to handle, especially Kydizzle who is still just a teenager and is having a rough time already figuring out who she is. She doesn't need to deal with all this baggage Tyga brings into her life. Plus, now that her older brother Rob is having a kid with Blac, she wants to focus on being an aunt and not having ill feelings towards the mother of her unborn nephew.
Sorry, Tyga! It looks like you are out of the Kardashian family's clique. I guess he can say kiss goodbye to his dream of making a hot tape with Kylie as well (people predicted that Kylie would follow in the footsteps of Kim and create a naughty film with Tyga). That's too bad for him, he probably would have made millions off of it.
Recently Chyna and Jenner made up. They took Snapchats and sent it out to all their fanz to show unity between them.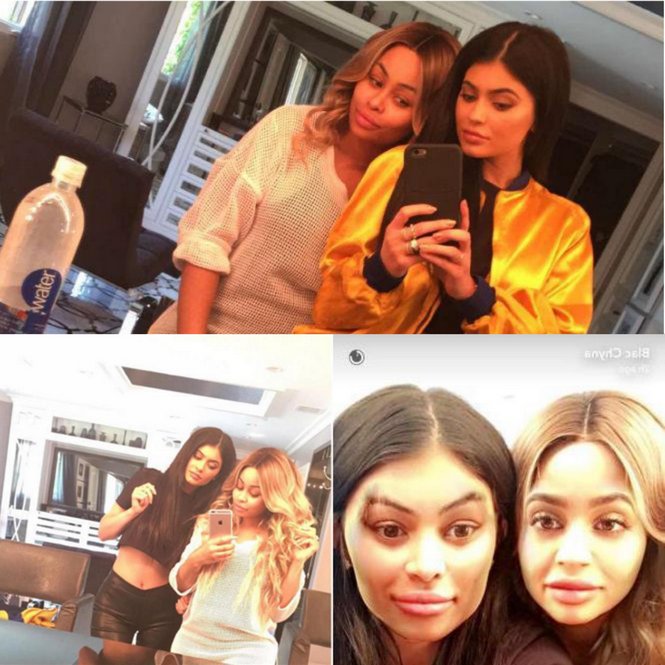 A collage of Kyga's precious moments together.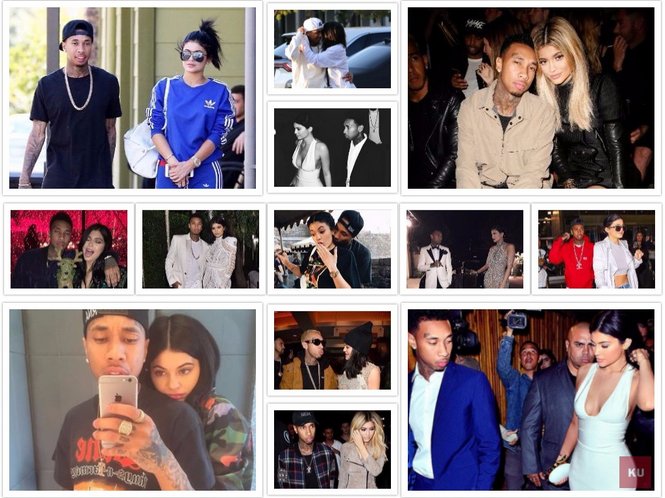 What does Kim K think about the Kyga break up?! Well, she hasn't spoken up about it yet, but she does support Rob and Blac's relationship. Khloe Kardashian does as well. You can read more about that and also see Khloe's sexy bod here: Khloe Kardashian's Curvy Body Is Looking Just As Bangin' As Kim's These Days